Costa Brava
The problem with the Costa Brava is that it still has a reputation that's now 30-40 years out of date. What was the first of the package holiday resorts is now a seriously chic and upmarket location with scenery and house prices to rival the French Riviera
It's actually taken us quite a while to get to know the Costa Brava. Many of the larger resorts still have a hangover of their hayday in the 60s, with large numbers of hotel blocks lining a long sandy beach, but otherwise with relatively little character. Our original tendency was to travel to these better known places and so to fall immediately fall into the "tourist trap" view of the Costa Brava.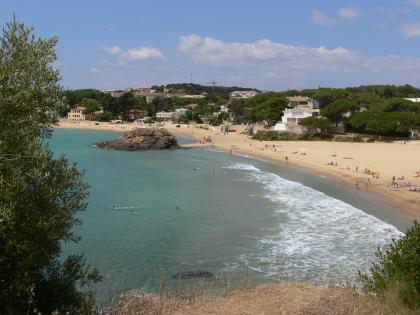 In fact the rich beauty of the area comes in the smaller places and the parts in the various natural parks and protected coast line with their sheer cliffs dropping into unspoilt sandy bays, or where the sea runs to fill up shallow rock pools or into hidden sea caves.
There is plenty of walking and well signed coastal paths where every turn is a new delight with a new bay and a new vista. Many of the smaller villages remain relatively untouched either by the tourist buses, or by the unsightliness of overgrown hotel chains that are found down the coast in places like Pinedes de Mar. It's in these smaller villages and coastal paths unmarked on the normal driving maps where you find the real treasures of Catalunya's coast and where the scenery is more breathtaking that that of the French Riviera.
Not surprisingly, these villages and more remote villas attract a lot of interest from the increasingly wealthy Barcelonaise, and prices for good villas and houses are now very expensive.
If you get the change there is a walk from La Forca (near Palamos) all the way along the coast. Try a piece of it and it will change your view of the Costa Brava for ever.