La Molina (Pyrenees)
La Molina, is the closest ski resort to Barcelona and is accessible by train from the city (line Vic-Puigcerda). We visited in summer, but the resort is extensive with large numbers of lifts and runs (and lots of snow machines).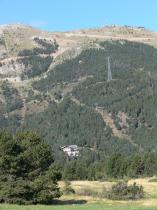 Around 3 hours by train from BCN, La Molina is in the Pyrenees in the north of Catalunya with views to France and Andorra. It's extremely scenic and reminiscent of the Alps. La Molina itself is positioned above the railway station at about 1700m. The top runs are at 2500m, making it high enough to get good snow in the winter. If you are looking for skiing there were huge numbers of lifts and runs, though most were out of action during the summer.
As a summer resort though we were a little disappointed. The scenery and general landscape were fabulous, but the resort was very quite and limited in what was on offer - for instance there was no cash machine available, despite how popular this must be in winter.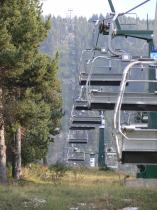 There were summer activities available, with the major summer activity being mountain biking where you take the gondola up the mountain with the bike and then scramble down. There were also some gimmicky activities that were fun but expensive and didn't really take an afternoon (the ropes and trees adventure course for example). However these seemed more aimed at day-trippers who would seem to drive up from the valley of Puigcerda.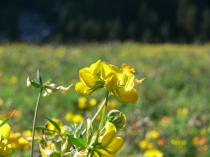 The main thing we were looking for was walking in the mountains. We are by now coming to the conclusion that walking/rambling isn't really a Spanish activity unless it's done as full-on semi-mountaineering. We did walk down from the Gondola's top station back to La Molina - around 2 1/2 hours even with children. But that was largely it as far as walking went. We couldn't find any walking maps (we walked a mountain bike path) and the hotel couldn't help us. In the end we did a little bit of walking on the piste meadows, but it was much less than we would have done in Switzerland for instance.
To illustrate the problem, the train station is around 2km below the resort area itself, about 400m down in the valley. Wanting to walk up to the hotel we found there were no obvious paths or sign-posting and ended up having to walk in the gutter of the busy-ish main road.