Sitges
A very pleasant (and hip) bohemian sea-side resort to the south of Barcelona which is very easy to get to via a train which runs along the coast or by car.
Sitges is a bustling yet traditional style town well known for it's festivals and nightlife (especially Gay Mardi Gras) which has none of the characterless concrete of the costal towns to the North of Barcelona along the Maresme.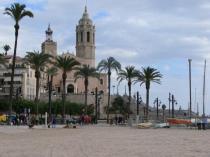 We visited in November on a clear warm day where we could walk along the beach and around the old castle/church in t-shirts and slacks (one of the best things about being here is the ability to enjoy places out-of-season without throngs of tourists).
The town itself consists of a heart with a windy pedestrian area with narrow streets flanked by traditional white Spanish town houses. Around the centre, things become more villas from the 1920s and 30s in Art Deco styling looking totally in place in this charming location.
At the head of the beach is the church and fortification marking the traditional defensive point for the city against marauding pirates. A city cannon still sits on the sea wall beside a sign that proudly boasts of the time Sitges held off the English Navy and prevented the capture of some Spanish boats in the harbour.
This sea wall is perched on rocks and if you walk around the fortifications you come another small beach away from the larger town beaches to the south. Also around the church you will find some very pretty and well-preserved streets basking in the memory of previous festivals and inhabitants.