Montserrat
Just outside Barcelona (about 45km) is the very jagged mountain of Montserrat. Celebrated as a Catalonian place of pilgrimage it is both an amazing looking mountain and a place deeply ingrained within Catalunian spiritual life.
There are two routes up to the mountain - a cable car or a cogged railway. The cable car is faster, but you get to see more from the railway. There are connections to Montserrat from Placa Espana by train. Although on the day we travelled there was a lot of work going on with the local railway network (Cercanies) which meant the journey involved metro and and a bus change.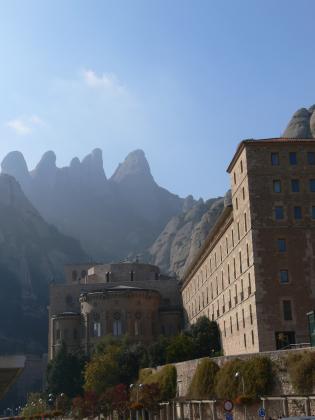 Both the railway and the cable car go up to the monestary of Montserrat which is perched on the side of the mountain. The mountain itself has large numbers of pillars reaching out to the sky, almost like fingers of a hand. The odd shape of the mountain and it's size in the middle of a plain, rather than as part of a range, make it a very particular catalan landmark. Indeed tere were a lot of Catalan tourists when we visited in October, so this is strongly a place for locals, though that doesn't diminish from the stunning views and sheer verticalness of the place.
If you are the adventurous type there is a lot of climbing in across Montserrat, but if you are nervous of heights, the drops down are very steep, even from around the sanctuary of the monastery area.